Abstract Submission
Abstract submissions for RCAW 2023 are being accepted

January 2 – February 15, 2023 at 5:00 PM.
To submit, log into your PiratePort.
Find the Student Abstract Submission Card and click it to begin!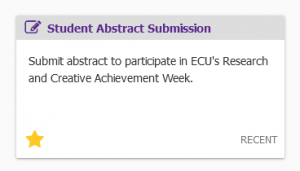 *Abstract submissions will close on February 15, 2023. Be aware that this deadline includes official mentor-approvals/final submission. 

Attention mentors and students: In accordance with our support of open access and sharing of knowledge, the RCAW program, including abstracts, will be published and available online.
Inventors and Innovators please be aware.  These abstracts and titles will be published online, and as such, qualify as public disclosure of information, possibly affecting patent and copyright applications.  Mentors are responsible for the material that is presented, and students must communicate with their mentors about possible patent and copyright
applications.
 Important Points and Requirements
Abstract examples are available from the 2022 abstract book.

The Online Abstract Submission is located within Pirate Port.  If you do not have a
Pirate Port account please create one when you are prompted after clicking on the link. Once you sign in to Pirate Port click on "Tools" and then click on Student Abstract Submission.

Logging into Pirate Port automatically generates your Name, Program, College and Major for your online abstract submission.


No tables should be present in the abstracts.

You MUST select a Mentor for your abstract.  When searching for your mentor please negate any spaces before or after your mentor's first or last name as this will cause to
return faulty searches.  You may add co-mentors if you choose to, but an on-site mentor must be selected to submit an abstract.

Oral presentations may only have one presenter.
The submission area is Microsoft Word copy and paste compatible.  Greek characters ARE supported in the abstract.  There is a Greek directory above both the title and
the abstract fields.

It is possible to save your form and finish that abstract submission later.  At the bottom of the form is a "Save Form" button.


The abstract character limit has been set at 2500 characters, including spaces.  Please govern your abstracts accordingly.